29.07.2020
"Кибернетика и ко" ООД беше одобрена за бенефициент по проект BG16RFOP002-2.073-5553-C01,Преодоляване недостига на средства и липсата на ликвидност, настъпили в резултат от епидемичния взрив от COVID-19 на Европейски фонд за регионално развитие на Европейски съюз за безвъзмездно финансиране на обща стойност 10 000.00 лева, от които 8 500.00 лв. европейско и 1 500.00 лв. национално съфинансиране.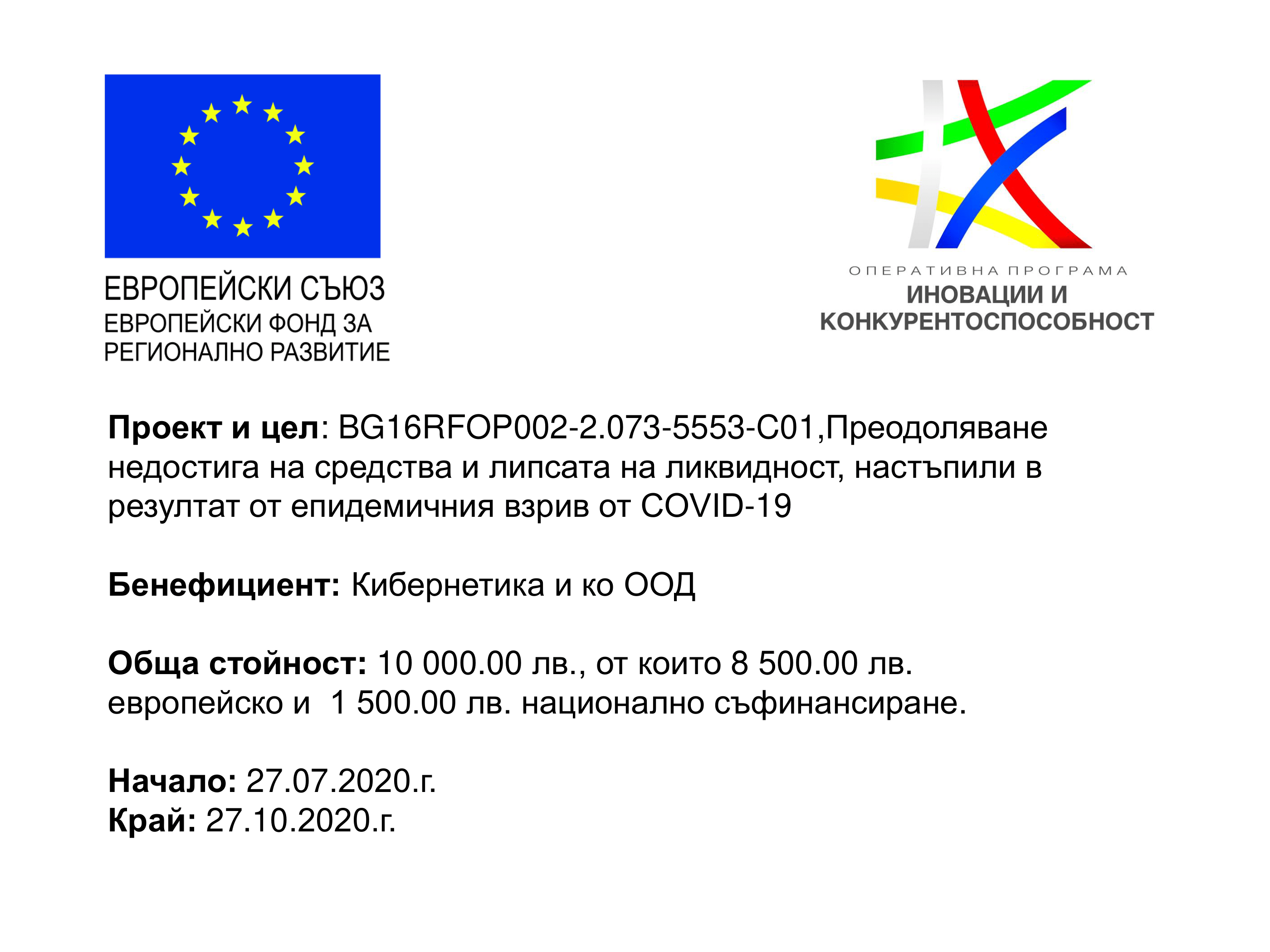 18.04.2013
Kibernetika finished successfully within 2 months the retrofit of the control system of Riedhammer high-temperature furnace at Tehkeramika-M, Mezdra, Bulgaria. The new system was designed and implemented to be part of Kibernetika's concept "Automation for Energy Efficiency" and led to fuel savings and many improvements in the control quality.

08.04.2013
Kibernetika signed a contract with Kruger, Denmark for delivery of software and engineering services for WWTP in Benkovsky, Sofia.

18.02.2013
Kibernetika continues its successful work in WTP field. The latest order received is for delivery and implementation of MCC and SCADA for WTP in Loznitsa, Bulgaria.

28.12.2012
Kibernetika implemented successfully the first part of control and SCADA systems at greenhouses "Gimel", Pazardjik, Bulgaria. The control system includes optimal regulation of gas cogeneration unit power.

21.12.2012
Kibernetika finished successfully the delivery, mounting and functional tests of electrical, control and SCADA installations at WWTP in Varshets, Bulgaria.

15.10.2012
Production of methane at WWTP-Kubratovo, Benkovsky, Sofia, Bulgaria, increased substantially after Kibernetika finished successfully the software implementation of new algorithm for control of the installation.

25.09.2012
Kibernetika finished successfully the extension of Exhaust Gases Monitoring System at Power Station "Maritsa 3", Dimitrovgrad, Bulgaria, after putting in operation of the new desulphurization unit

04.09.2012
Kibernetika has received an order for delivery and implementation of automation and SCADA system at Gimel greenhouses in Pazardjik Region, Bulgaria

02.08.2012
Kibernetika continues its successful business in automation of WWTP. The latest orders are for design of the automation system in 3 WWTPs in Bulgaria

20.07.2012
Kibernetika finished successfully in a very short time and without interruption of production the installation of new control system of PCB production unit at "SET" AD, Ruse, Bulgaria

15.06.2012
Kibernetika has received an order for delivery and impementation of control system of new steam turbine in Power Station "Sofia", Sofia, Bulgaria

12.06.2012
Kibernetika has received an order for replacing the existing control system of PCB production unit at "SET" AD, Ruse, Bulgaria

07.06.2012
Kibernetika has received an order for delivery and installation of the whole automation system at new WWTP in Varshets, Bulgaria

30.03.2012
After successful implementations Kibernetika received new orders for extensions of Materials Processing Control System and Energy Consumption Monitoring System at Roca Fayans Factory – Kaspichan, Bulgaria

01.03.2012
Kibernetika has been assigned a new order for implementation of exhaust gases monitoring system of Incinerating Unit at Medical Academy, Sofia, Bulgaria

27.01.2012
Kibernetika completed successfully the implementation and start-up of Total Boiler Control System for Boiler No3 220 t/h at Power Station "Sofia East", Sofia, Bulgaria

21.01.2012
Kibernetika completed successfully the implementation and start-up of Total Boiler Control System for Boiler No9 220 t/h at Power Station "Sofia", Sofia, Bulgaria

07.12.2011
Kibernetika completed successfully the implementation and start-up of ESD system for Steam Turbine No1 5 MW at Power Station "Pleven", Pleven, Bulgaria

02.12.2011
Kibernetika completed successfully the implementation and start-up of software system for exhaust gases monitoring at Power Station "Sofia" – Water Heating Boilers Unit

02.12.2011
Kibernetika completed successfully the implementation of BMS project at DSV Road - Bulgaria

01.12.2011
Kibernetika completed successfully the implementation and start-up of new Materials Processing Control System at Roca Fayans Factory – Kaspichan, Bulgaria

01.11.2011
Kibernetika has been assigned a new order for further extension of the SCADA system at WWTP-Kubratovo, Sofia, Bulgaria

01.11.2011
Kibernetika passed successfully the regular ISO 9001:2008 audit by Moody International